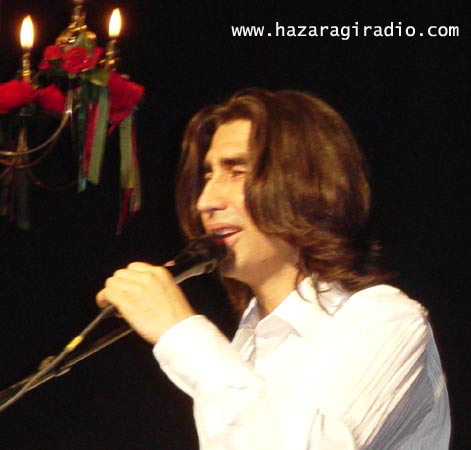 photo of our proud singer Dawood
Dawood Sarkhosh (Biography)








Dawood Sarkhosh is one the most beloved and a famous singer in Afghanistan. He was born in 1969 in the province of Urozgan in the central of Afghanistan. As a kid he was interested in music. He started to sing and play Dambura at the age of 17. He started with local Hazaragi song.




War has forced him as many Afghanistani to leave the country. After being awhile in Pakistan he continued his interest for music and learns to play hormunia with the help of a Pakistani composer Arbab Ali Khan. In a short period of time from a local singer he became one of the most popular singer in the country. Afghanistan has always been in his heart, and most of his song is about situation in Afghanistan and living in poverty in another country. Today he writes poetry in Dari, Hazaragi and play his own music.




So far he give out tow CD:s. His first album Sarzamin man came out in 1998, and soon became one of the most beloved albums among afghanistani singers. His second album named parijo means a beautiful girl. His third album named safid was siyah will come out soon.

He writes poetry in Dari and Hazaragi. He is a good composer and he is one of the best singers among the afghanistani singers.




B>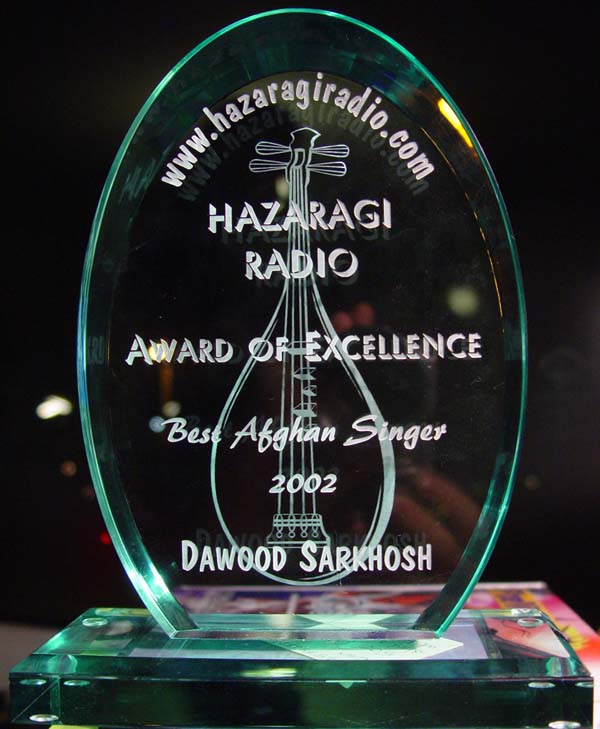 Dawood's Biography
Dawood Sarkhosh was born in 1971 in the provinces of Urozgan in Central Afghanistan. He started to sing at age of 17 years. For a shorter period he studied the Hazaragi Danbora with help of his elder brother Sarwar Sarkhosh; he has also studied and learned to play the Harmoonia /accordion under the Pakistani composer deceased Arbab Ali Khan- from the provinces of Sind; apart from that Dawood is a self-taught musician. He is a most distinguished artist and writes himself poetry in Persian.
Up till now Dawood Sarkosh has brought out 3 CD´s which are available in almost every Afghan


shop. His first CD, "Sarzamin-e-man" (which means "My country"), came in England in 1998, and shortly after that the second CD, "Pari jo" (a girl´s name), was brought out in England as well. Today Dawood Sarkhush is a fine composer and acknowledged as the best among the Afghan singers.

Dawood Sarkhosh is married with K. Nekzad Sarkhosh. They have 2 sons, Saboor Sarkhosh 7 years old and Zulfiqar Sarkhosh just 5.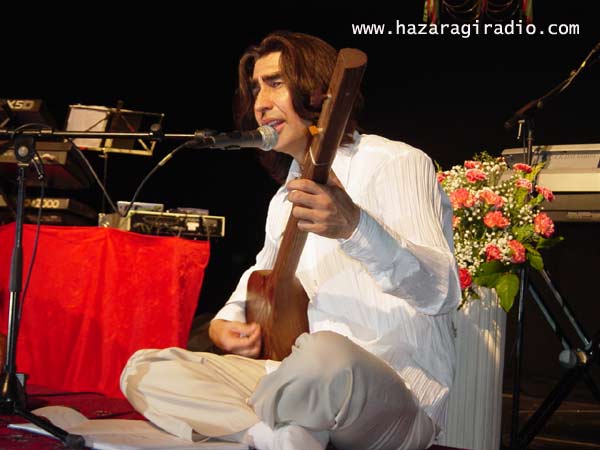 Dawood's Damboora time
This Picture has been taken while Dawood was playing Damoobra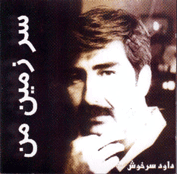 Sarzamin-e-Man came out in London in 1998. It is the first Album of Mr Dawood Sarkhosh
The songs of this Album
1-Ya moula Ali

2-Ay zamana

3-Musafer

4-Sarzamin-e-man

5-Del-e-man Shikwa

6-Koocha Sar-e-shab

7-Hamchooman Shamii

8-Baz del metapad

9-Ba e Mulkay mardoom

10-Ay del ay del

11-Ay mardoom

12-Jarajo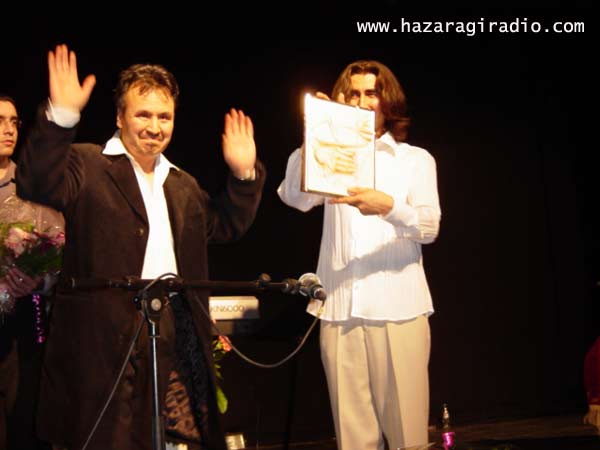 Dawood geting award
Dawood Sarkhosh is a prominent and well known personality in the modern Afghan music scene with a style all of his own. His greatest achievement has been the skillful combination of commitment and art. In other words, he has not only delivered music to familiar ears but has tried to reach those forbidden from listening to music with the hope of familiarizing them with a flavour of it. That is why he is considered as a pioneer in this field.

The dynamic personality of Sarkhosh flows amongst the affliction of his people's misfortunes towards newer horizons. He is without any doubt one of the corner stones of our music.

Dawood has been bearing with him the native soul of the Hazarejat sonnet and eulogy filled with the wartime lamentation of homeless evacuees, with the social understanding that music brings, he has arrived at an outstanding and unique place which reveals a requiem of suffering and sorrow, in which he has rescued with boldness long forgotten treasures of poetry and music in the hope of preserving our culture.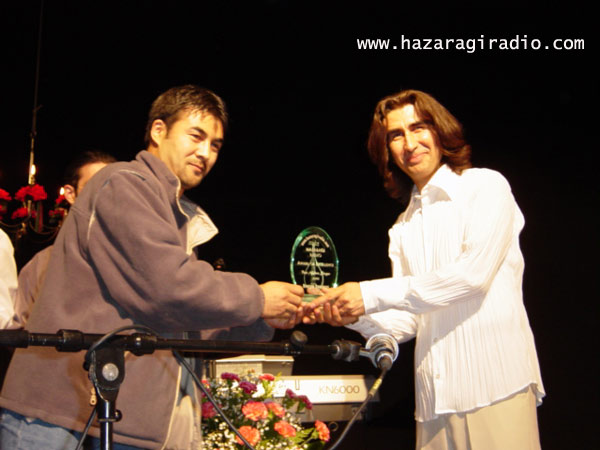 Dawood is geting award
Dawood had been given a wicked award cup by a Hazaragi man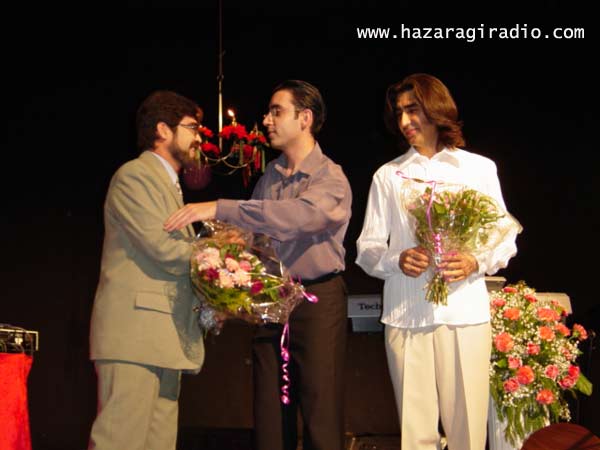 Dawood is been given a banch of flower by an audience
Wow Dawood seems very happy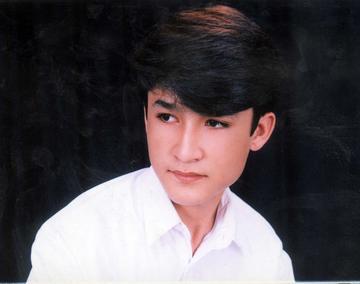 Sahil Zia
Sahil is a new Hazaragi artest. Sahil curntly lives in Quetta Hazara Town in Pakistan. His achievment is quite good